Your Guide To Beer And Food Pairing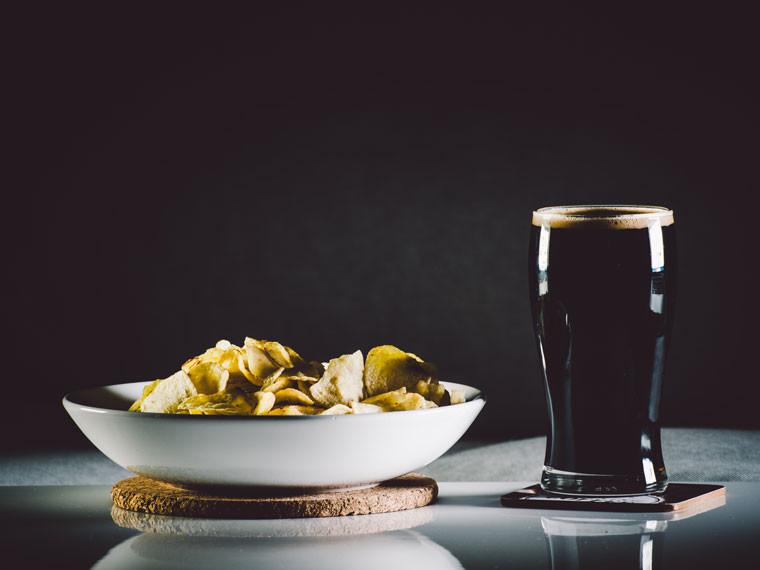 With the trend of beer and food pairing on the rise, we (as quite solid beer AND food  lovers) got curious and wanted to break the science down to details - what specific dishes would certain beers pair best with? Long story short - after hundreds of meals and hours spent researching, we came to realize that beer and food pairing is truly an art, and that we'll always order Porter with spicy BBQ ribs.
Put your Click & Grow harvest to good use - try some of the recipes with the suggested beers and let us know what you think! Do you have some other favorites?
Beer type
Main
Dessert
Our favourite recipe for this beer and food pairing (click to see!)
Blonde Ale
Lighter food: chicken, salads, salmon, bratwurst
Light apricot or mandarin cake, lemon custard tart
Lemon tartlets with Thyme crust
British-Style Bitter
Wide range of food: roast chicken or pork, fish & chips
Oatmeal-raisin-walnut cookies or some other satisfyingly basic dish
One-pot autumn herb roasted chicken with butter toasted white rice pilaf
Pale Ale
Wide range of food: meat pie, burgers
Pumpkin flan, maple bread pudding, bananas Foster
Herbed beef pastries with carrot and parsnip
India Pale Ale
Strong, spicy food (classic with curry)
Bold, sweet desserts: Caramel apple tart, ginger spice cake, persimmon rice pudding, carrot cake
Spicy Thai curry pumpkin noodle soup
Double/Imperial IPA
Smoked beef brisket, grilled lamb, Southern chicken-fried steak
Very sweet desserts: carrot cake, caramel cheesecake, c

rème brûlée

Grilled lamb pitas with pistachio-mint pesto
Amber/Red Ale
Wide range of food: chicken, seafood, burgers. Great with spicy cuisine
Poached pears with dulce de leche, banana pound cake, pecan lace cookies
Sage custard and pear tart with caramelized sage
Brown Ale, Altbier
Hearty foods: roast pork, smoked sausage, grilled salmon
Almond or maple-walnut cake, pear fritters, cashew brittle
Grilled cedar plank salmon fillet
Abbey Dubbel
Barbecue, meat stews, a nice thick steak, smoked rib roast
Heavenly with milk chocolate; butter truffles, chocolate bread pudding
Milk chocolate puddles with pumpkin seeds, rosemary and orange
Old or Strong Ale
Big, intense dishes: roast beef or lamb
Spiced plum-walnut tart, classic canolli, toffee apple crisp
Roasted leg of lamb with mint pesto
Barley Wine
Easily overpowers most main dishes
Rich, sweet desserts: chocolate hazelnut torte, toffee caramel cheesecake
Chocolate orange basil brownies
Porter
Roasted or smoked food: barbecue, sausages, roasted meat, blackened fish
Chocolate peanut butter cookies, toasted coconut cookie bars
Spicy barbecue ribs with fresh herbs
Sweet or Oatmeal Stout
Rich, spicy food: barbecued beef, Oaxacan mole, hearty Szechuan dishes
Chocolate espresso cake, cream puffs, profiteroles
Szechuan pork in spicy broth
Imperial Stout
Easily overpowers most main dishes, but stands up to foie gras and smoked goose
Dark chocolate truffles, chocolate raspberry mousse cake
Chocolate cake with cinnamon and chili
Hefeweizen
Great with lighter food: salads, seafood, sushi. Classic with weisswurst
Strawberry shortcake, fruit trifle or other very light dessert, key lime pie
Vietnamese shrimp noodle salad
American Wheat Ale
Best with very light foods: salads, sushi, vegetable dishes
Generally too light for dessert, but could pair with berries or a fruit soup
Tomato and basil salad with chive vinaigrette
Witbier
Great with lighter seafood dishes, classic with steamed mussels
Banana orange crepes, blood orange sorbet, wanna cotta with lemon
Steamed mussels with cream and herbs
Classic Pilsener
Great with lighter food: chicken, salads, salmon, bratwurst
Light desserts: Lemon shortbread, fresh berries with sabayon
Lemon thyme shortbread
Oktoberfest, Märzen, Vienna
Mexican or any hearty, spicy food: chicken, sausage, pork
Mango or coconut flan, almond biscotti, spice cake with pine nuts
Chili con carne
Dark Lager, Dunkel, Schwarzbier
Hearty, spicy food: barbecue, sausages, roasted meat
Pomegranate tart with walnuts, candied ginger pear cake
Roasted strawberry and thyme tart
See the full beer and food pairing chart on brewersassociation.org
 Get our special Craft Beer Mix
Lemon Tartlets with Thyme Crust
gluten- and dairy-free recipe and photo from Salted Plains
tastes best with Blonde Ale
 Ingredients

Recipe

For tartlet crusts:

2 cups almond meal/flour, packed
½ teaspoon baking soda
pinch of sea salt
2 tablespoons maple syrup
¼ cup coconut oil, melted
1 teaspoon pure vanilla extract
1 tablespoon fresh thyme or 1 teaspoon dried thyme

Lemon curd filling:

½ cup maple syrup
2 teaspoons grated lemon zest
½ cup fresh lemon juice (about 3 medium lemons)
6 egg yolks
4 tablespoons coconut oil, melted
pinch of sea salt

Preheat oven to 350 degrees. Grease or place paper liners in a muffin tin (paper liners make this super simple!).
Start with the lemon curd, as it will need time to chill (this can be done the night before). In a medium saucepan, combine maple syrup, lemon juice, lemon zest, egg yolks, and sea salt. Bring to a simmer over medium heat, whisking constantly until mixture starts to thicken, about 5 minutes.
With a fine sieve, strain into a bowl. Whisk in melted coconut oil.
Cover with plastic wrap, making sure wrap touches surface so a film does not form, and chill for at least an hour.
Find the rest of the recipe on Salted Plains

 
One-Pot Autumn Herb Roasted Chicken with Butter Toasted White Rice Pilaf
recipe and photo from Half Baked Harvest
tastes best with British-Style Bitter
 Ingredients

Recipe

3-4 pounds bone-in chicken parts (breast, thighs + legs), pat dry
1/4 cup olive oil
2 tablespoons fresh thyme, chopped
2 teaspoons fresh rosemary, chopped
1 teaspoon brown sugar
juice of 1 lemon
2 tablespoons + 4 tablespoons butter, divided
1 1/2 cups wild rice
3/4 cup orzo pasta (use gluten free if needed)
2 1/2 cups chicken broth
1 cup of your favorite beer (I used pumpkin)
3 carrots, chopped into 1/2 inch pieces
2 cups button mushrooms
2 tablespoons dried parsley (or 1/4 cup fresh parsley)
4 whole sage leaves (or 1 teaspoon dried), chopped
salt and pepper, to taste
1 head garlic, halved
1 sweet onion, peel + cut into fourths

Preheat oven to 400 degrees F.

Heat a large 3-5 quart brasier or dutch oven over high heat. Add the 2 tablespoons olive oil. Place the chicken in a ziplock bag and toss with the remaining 2 tablespoons olive oil, thyme, rosemary, brown sugar, and a good pinch of both salt and pepper. Add the chicken to the hot brasier (or whatever you are using) and sear on both sides until lightly browned, about 2 minutes per side. Remove the chicken from the pan. Repeat with any remaining chicken, remove from the pan.

Reduce the heat to medium and add 2 tablespoons butter. Add the orzo and cook about 1-2 minutes or until lightly toasted and golden, stirring often (watch this closely as it burns fast). Add the wild rice and toast another 1-2 minutes, stirring often. Toss in the carrots and mushrooms, cook 2 minutes. Add the chicken broth, beer and another pinch of salt and pepper. Use a wooden spoon to scrape up any browned bits off the bottom of the pan. Stir in the parsley and sage. Remove from the heat.

Find the rest of the recipe on Half Baked Harvest



Herbed Beef Pastries with Carrot and Parsnip
recipe and photo from An Edible Mosaic
tastes best with Pale Ale
 Ingredients

Recipe

For the pastry dough:

2½ cups (320 g) all-purpose flour
¾ teaspoon fine salt
1 cup (226 g) cold unsalted butter, diced
5-7 tablespoons ice-cold water (or more as needed)

For the filling:

¾ lb (350 g) raw beef steak (I used sirloin), trimmed of fat and diced into ¼-inch cubes
1 cup carrot, diced into ¼-inch cubes (about 2 medium or 1 very large carrot)
1 cup parsnip, diced into ¼-inch cubes (about 2 medium or 1 very large parsnip)
1 small onion, diced small
1 tablespoon minced fresh rosemary
1 tablespoon minced fresh thyme
1 teaspoon salt
¼ teaspoon ground black pepper

Other:

1 egg, beaten with 1 tablespoon water (for eggwash)
Dijon mustard, for serving (optional)

Start by making the pastry dough. Pulse together the flour and salt in a food processor. Add the butter and pulse until it looks like coarse meal (the pieces of butter should be about the size of small peas). (Alternatively, this can be done by hand; whisk the flour and salt together in a large bowl, then cut in the butter with a pastry cutter or a fork until it looks like coarse meal.) Transfer the dough from the food processor to a large bowl. Add 1 tablespoon water at a time, working the dough together with your fingertips just until it comes together, and only adding enough water so the dough comes together when you squeeze it. Divide the dough into 8 equal pieces, roll each into a ball, place them in a large bowl, cover with plastic wrap, and refrigerate until chilled, about 30 minutes.
While the pastry chills, stir together all filling ingredients in a large bowl; set aside.
Preheat the oven to 400F. Line 2 large baking sheets with parchment paper or silpat liners.
Working with 1 ball of dough at a time, roll it out on a floured surface to a circle about 8 inches in diameter; use a plate as a guide to trim the edges so you have a perfect circle. Spoon about ½ cup of filling into the center of the dough; lightly brush the edge of the dough with eggwash. Fold both sides of dough up over the filling and crimp the edges together in the center of to form a tight seal. Continue this way until 8 pasties are assembled, then if there is filling leftover, re-roll the dough scraps and continue making pasties until you run out of filling or dough (I usually get 9 pasties out of this recipe).
Find the rest of the recipe on An Edible Mosaic
Spicy Thai Curry Pumpkin Noodle Soup
recipe and photo from My Food Story
tastes best with India Pale Ale
 Ingredients

Recipe

1 tablespoon vegetable oil

3 tablespoons Thai red curry paste

1 cup dried Shiitake mushrooms

2 cups pumpkin puree

1 teaspoon fish sauce (optional)

3 cups vegetable broth or water

1 1/2 tablespoons Jaggery or brown sugar

3/4 cup thick coconut milk

150 grams noodles

1/2 cup Thai basil leaves

Salt to taste

Roasted Peanuts and Thai Basil for topping

Soak dried shiitake mushrooms in hot water for half an hour.

Heat oil in a large pot and add thai red curry paste. Saute for 2-3 minutes and add pumpkin puree, fish sauce and 2 1/2 cups broth or water.

Slice the shiitake mushrooms and add them to the pot along with jaggery and salt. Bring everything to a boil, and simmer for 8-10 minutes.

In the meanwhile, boil noodles according to package instructions till al dente (cooked but still firm when bitten), strain, wash with cold water and set aside. Washing with cold water stops the cooking process and helps avoid sticky, overcooked noodles.

Find the rest of the recipe on My Food Story
Grilled Lamb Pitas with Pistachio-Mint Pesto
recipe and photo from Vodka & Biscuits
tastes best with Double/Imperial IPA
 Ingredients

Recipe

For the lamb patties:

1 lb. ground lamb
1 shallot
1 large garlic clove
1 T. fresh dill - roughly chopped
2 t. Mediterranean spices
pinch red pepper flakes
pinch salt and pepper
4 pitas

For the pesto:

1 c. fresh mint leaves
1/4 c. pistachio nuts
1/4 c. olive oil
Feta cheese crumbles as needed
salt as needed

For the yoghurt:

1/2 c. nonfat Greek yoghurt
1 T. fresh lemon juice
Dill as needed
salt and pepper as needed

 

Pesto:

Combine mint, nuts, and olive oil in processor and pulse. Adjust oil if needed. Season with salt. Fold in Feta crumbles.

Lamb patties:

Add the meat, herbs, and seasonings to a large bowl. Using a fine grater or zester, grate the shallot and garlic over the meat, wiping off any excess stuck to the grater. Mix with your hands - don't be afraid to get your hands dirty!
Scoop a fourth of the meat and place into a burger mold (I may or may not have used a Tervis lid). With your thumb, make an indent on the top of the patty. Transfer to a plate and repeat for the next three patties. Place in fridge for 30 minutes to one hour.
Find the rest of the recipe on Vodka & Biscuits

 
Sage Custard & Pear Tart with Caramelized Sage
recipe and photo from feed feed and Louise Aaronson
tastes best with Amber/Red Ale
 Ingredients

Recipe

For the pastry:

1¼ cups all-purpose flour

½ cup confectioners' sugar

¼ cup slivered almonds or chopped hazelnuts

¼ teaspoon salt

1 stick unsalted butter, at room temperature, cut into pieces

1 large egg yolk, beaten

4 tablespoons seedless preserves or jelly, melted

For the pastry cream:

1½ cups whole milk

6 to 8 large sage leaves, cut in half

3 large egg yolks

¼ cup granulated sugar

2 tablespoons all-purpose flour

1 teaspoon pure vanilla extract

1 tablespoon unsalted butter

pinch white pepper (optional)

For the pears:

2 cups riesling and 

2 cups water, or 4 cups water

1 cup, plus 2 tablespoons sugar

1 (4-inch) cinnamon stick

2 strips lemon zest

4 ripe but firm Bosc pears, peeled, cored, and halved

For the candied sage leaves:

½ cup superfine sugar

10 sage leaves

1 egg white, lightly beaten with a pinch of salt

Make the pastry: In a food processor, combine the flour, sugar, almonds, salt, butter and egg yolk and pulse to blend. Do not overprocess. Gather the dough together and flatten into a disk. Wrap well and refrigerate for up to 2 days or freeze for later use. If frozen, thaw overnight in refrigerator. 




On a floured surface, roll the pastry out and transfer to a 9½-inch fluted tart pan with a removable bottom. Freeze until ready to bake.




Position the oven rack in the center and heat a cookie sheet to 375 F.




Prick the crust all over with a fork, line with buttered parchment paper and fill with rice or dried beans. Place the shell on the cookie sheet and bake for 25 minutes. Carefully remove the parchment and rice or beans, prick again and bake until golden brown, 15 to 20 minutes. Place on baking rack and brush with a little of the melted preserves while still warm. Cool completely before filling.

Find the rest of the recipe on feed feed
Grilled Cedar Plank Salmon Fillet
recipe and photo from Jessica Gavin
tastes best with Brown Ale, Altbier
 Ingredients

Recipe

For the salmon:

1 pound salmon fillet, skin on
Cedar plank soaked in water for at least 1 hour
4 lemon slices

For the herbed spice mix:

Place cedar plank in a sheet pan, cover with water and put a heavy bottle on top of the board to keep beneath the water. Soak the cedar plank in water for at least 1 hour.
Place the salmon fillet on cutting board. Cut the fillet into 4 individual portions, cutting right down to the skin but not through it. This will make serving easier after the salmon is cooked.
Combine herb spice mix ingredients and evenly coat the surface of the salmon with 5 to 6 teaspoons of the seasoning. Reserve any additional spice mix for later use or extra spice after cooking the salmon.
Heat the grill to medium-high heat.
Find the rest of the recipe on Jessica Gavin



Milk Chocolate Puddles with Pumpkin Seeds, Rosemary and Orange
recipe and photo from Abel & Cole
tastes best with Abbey Dubel
 Ingredients

Recipe

70g milk chocolate
A few pumpkin seeds
Zest of 1 orange
A pinch of small tender rosemary leaves

Gently melt the milk chocolate in a bowl over a pan of simmering water (don't let the bowl touch the water).

When melted, stir and spoon onto a lined baking tray.

Find the rest of the recipe on Abel & Cole



Roasted Leg of Lamb with Mint Pesto
recipe and photo from Aninas Recipes
tastes best with Old or Strong Ale
 Ingredients

Recipe

1,7

 

kg

 

leg of lamb

salt and black pepper

 

to season

handful

 fresh thyme and rosemary

2

 

sweet potatoes

 

cut into rings

1

 

cup

 

pearl onions

 

peeled

2

 

whole

 

garlic

 

tops removed

4

 

tablespoons

 

butter

2

 

cups

 

baby carrots

4

 

tablespoons

 

butter

 

for caulirice

1

 

cauliflower head

 

grated

salt and black pepper

 

to season caulirice

handful

 

fresh mint

1/4

 

cup

 

almonds

1

 

clove

 garlic

1/4

 

cup

 

grated parmesan

1/2

 

cup

 

olive oil

salt and black pepper

 to season pesto

First off, preheat the oven to 120 degrees Celsius.

Place the leg of lamb in an oven safe casserole dish and season with salt and black pepper.

Add the thyme and rosemary, cover and leave in the oven for 5 hours.

After 5 hours of cooking time, remove the lid. 

Add the sweet potato, onions and whole garlic in the casserole dish.

Roast for another 2 hours, checking the vegetables every now and then.

You can remove the veggies if they are done before cooking time.

Find the rest of the recipe on Aninas Recipes



Chocolate Orange Basil Brownies
recipe and photo from Some The Wiser
tastes best with Barley Wine
 Ingredients

Recipe

¾ cup raw walnuts
½ cup fresh basil, tightly packed
4 ounces unsweetened chocolate; coarsely chopped
¾ cup butter
1½ cups white sugar
3 eggs
1 teaspoon vanilla extract
6 drops orange oil, or to taste
¼ teaspoon kosher salt
1 cup all-purpose flour

Preheat oven to 350 degrees Fahrenheit. Line an 8x8 brownie pan with parchment paper.
In a food processor, combine walnuts and basil. Pulse once or twice until a crumbled mixture forms. Set aside.
In a medium glass bowl, microwave the butter and chocolate at 50% power for 3 to 4 minutes, or until butter has melted.
Whisk until chocolate has melted. Stir in sugar, eggs, vanilla, orange oil, salt, and the walnut basil mixture. Gradually add flour and stir until just combined.
Find the rest of the recipe on Some The Wiser




Spicy Barbecue Ribs with Fresh Herbs
recipe and photo from Paleo Leap
tastes best with Porter
 Ingredients

Recipe

3 to 4 lbs baby back ribs, membrane removed;
1 tbsp. smoked paprika;
½ tbsp. garlic powder;
½ tbsp. onion powder;
½ tsp. cayenne powder;
1 cup homemade BBQ sauce;
4 tsp. Sriracha; (optional or to taste);
2 tbsp. raw honey; (optional)
1/4 cup fresh chives, minced;
1/4 cup fresh cilantro, minced;
1/4 cup fresh parsley, minced;
Sea salt and freshly ground black pepper;

Preheat your oven to 325 F.
In a bowl, combine the smoked paprika, garlic powder, onion powder, cayenne, and salt and pepper to taste.
Cover the ribs with the rub on both sides and wrap each set of ribs in parchment paper. Place the ribs in a single layer on a baking sheet and bake in the oven for 2 1/2 hours.
Find the rest of the recipe on Paleo Leap




Szechuan Pork in Spicy Broth
recipe and photo from China Sichuan Food
tastes best with Sweet or Oatmeal Stout
 Ingredients

Recipe

150g pork chops or pork butt (highly recommend the butt)
1 small bunch of water spinach, root removed and cut into sections
pinch of salt
4 tablespoons starch (recommend potato starch or sweet potato starch)
1 tablespoon Chinese cooking wine
1+1/2 tablespoons water or slightly more if needed. 
2 green onions, white part cut into 2cm long and green pert chopped
2 star anises 
5-8 dried chili pepper
1/2 teaspoon Sichuan pepper
1 tablespoon doubajiang
1 teaspoon dou-chi (optional)
water as needed
1+2 tablespoons cooking oil 
3 garlic cloves, sliced
1 thumb ginger, sliced
coriander for garnishing

Slice the pork thinly and then add pinch of salt, starch, cooking wine and water. Combine well and set aside for 10 minutes. The pork slices should be well coated with the starch. This is to guarantee the thin outside layer protecting the pork overcooked.
In a wok, add 1 tablespoon of oil, fry half of the chili pepper, half of Sichuan peppercorn, star anise over lowest fire until aroma. Then add ginger, garlic and green onion whites, cook for around another 30 seconds. 
Add doubanjiang and dou-chi in, fry until you can see the red oil come out.
Pour around 1L water in. Simmer for around 15-20 minutes with lid covered. During this process, you may smell the strong aroma bought by the broth.
Find the rest of the recipe on China Sichuan Food




Chocolate Cake with Cinnamon and Chili
gluten free recipe and photo from The Tomato Tart
tastes best with Imperial Stout
 Ingredients

Recipe

For the cake:

4 tablespoons coconut oil, softened
1 cup brown sugar
2 large eggs
2 ounces dark chocolate (¼ cup), melted and cooled
1 teaspoon vanilla extract
1 cup all purpose gluten free flour, no xanthan gum needed
1 teaspoon baking soda
⅛ teaspoon salt
½ tablespoon cinnamon
1 tablespoon finely chopped gourmet garden lightly dried chili
½ cup coconut cream•
1 tablespoon apple cider vinegar
½ cup strongly brewed hot coffee or espresso

For the ganache:

½ cup coconut milk
1 tablespoon gourmet garden lightly dried chili
3 cinnamon sticks
4 tablespoons coconut oil
10 oz dark chocolate (I used a mix of 64% and 72%)

Optional garnishes:

more finely ground Gourmet Garden lightly dried chili
smoked sea salt
powdered sugar
cinnamon sticks

Preheat oven to 350º and grease and flour three 5 inch cake rounds. http://amzn.to/1RUXbts
In a large bowl or the bowl of a stand mixer, cream together coconut oil and brown sugar . Beat in eggs one at a time, mixing each egg until it it fully incorporated. Scrape down the bowl with each addition- to make sure every little bit of goodness is incorporated into the cake batter. Add in vanilla extract and melted chocolate. Mix again.
In a smaller bowl, combine flour, baking soda and salt. In a third bowl, vigorously mix coconut cream with vinegar. Next, we'll add these ingredients to the creamed butter mix. Alternating, add in the dry ingredients in three additions and the coconut cream in two additions. Start and end with the flour. Finally, stir prepared coffee into cake batter.
Find the rest of the recipe on The Tomato Tart





Vietnamese Shrimp Noodle Salad
recipe and photo from Heather Christo
tastes best with Hefeweizen
 Ingredients

Recipe

For the shrimp:

1 pound shrimp, peeled and deveined (but leave the shrimp tails!)
2 tablespoons fresh lime juice
kosher salt
2 tablespoons vegetable oil

For the Vietnamese vinaigrette:


2 tablespoons sugar
¼ cup rice vinegar
1 red fresh chili, minced
2 cloves garlic, minced
2 tablespoons roasted peanuts, minced
2 tablespoons fish sauce
2 tablespoons fresh lime juice
2 tablespoons vegetable oil
kosher salt

For the noodles:


6.75 ounces Rice Sticks Noodles

For the salad:

4.5 ounces Earthbound Farm Organic Greens (I used "flavor blends" Spicy Spinach)
1 cup fresh basil leaves
1 cup fresh mint leaves
1 cup fresh cilantro leaves
2 carrots, peeled into ribbons
1 red chili, thinly sliced
½ red onion, thinly sliced
2 persian cucumbers, thinly sliced
¼ cup roasted peanuts, whole or chopped

Combine the shrimp, lime juice and a generous sprinkle of kosher salt in a small bowl. Set aside while you make the vinaigrette.

For the Vinaigrette:


In a small pan, combine the sugar and the rice vinegar and bring to a simmer, cooking about 1-2 minutes over low heat until the sugar dissolves. While that is happening combine the chili, garlic and peanuts in a small bowl. Add the fish sauce, lime juice, vegetable oil and then the hot sugar-vinegar mixture to the bowl. Set aside.

For the Shrimp:


In the same pan, heat the vegetable oil over medium-high heat. Add the shrimp, a few at a time and cook until golden around the edges and just opaque in the center, about 2 minutes total. Set aside and continue to cook all of the shrimp.
Find the rest of the recipe on Heather Christo








Tomato and Basil Salad with Chive Vinaigrette
recipe and photo from Ciao Florentina
tastes best with American Wheat Ale
 Ingredients

Recipe

2 lb heirloom tomatoes, mixed sized & colors
5 sprigs of fresh basil
5 sprigs purple basil
1 shallot, thinly sliced
⅓ c extra virgin olive oil
½ lemon, juiced
½ tsp sea salt + more to taste
½ bunch chives, snipped
5 chives for garnish, roughly chopped
chive blossoms, for garnish
basil blossoms, for garnish

In a small jar add the olive oil, lemon juice , snipped chives and sea salt. Shake together until combined. Taste and adjust seasonings with more sea salt and lemon juice until happy.
Find the rest of the recipe on Ciao Florentina
Steamed Mussels with Cream and Herbs
recipe and photo from Easy Recipes For Your Family
tastes best with Witbier
 Ingredients

Recipe

5½ pounds (2.5kg) mussels
⅔ cup (150ml) heavy or whipping (double or regular) cream
1 tablespoon chopped fresh parsley
1 tablespoon chopped fresh chives
2 teaspoons chopped fresh thyme leaves
2 teaspoons chopped fresh fennel (the herb, not the bulb)

Scrub the mussels very well, discarding any that are open and don't close when tapped against a hard surface. Remove the beard—the little fibrous tuft—from each mussel.

Pour the cream into a large saucepan and bring slowly to a boil. Stir in the herbs and add the mussels.

Find the rest of the recipe on Easy Recipes For Your Family
Lemon Thyme Shortbread
recipe and photo from Oleander + Palm
tastes best with Classic Pilsener
 Ingredients

Recipe

1 cup butter

2/3 cup powdered sugar

1 3/4 cup flour

2 tsp. freshly chopped thyme

zest of one lemon

1 tsp. vanilla

small sprigs of thyme for the tops of each cookie

Cream the butter and sugar with an electric mixer. Add the vanilla, lemon zest and thyme. Add the flour and mix until the dough comes together. Wrap the dough in plastic wrap and chill for at least 30 mins.

Pre-heat the oven to 350F.  Roll out the dough to a little less then 1/4″ on a well floured surface. This is a very soft dough, that's what makes them so tender when they are done.  Keep the dough cold and work with flour on your hands and on the surface.

Find the rest of the recipe on Oleander + Palm
Chili Con Carne
recipe and photo from Simone's Kitchen
tastes best with Oktoberfest, Märzen, Vienna
 Ingredients

Recipe

2 onions
2 cloves of garlic
2 carrots
2 stalks of celery
2 red bellpeppers
400 gr chickpeas (from can)
400 gr kidneybeans
2x 400 gr tomato cubes (from can)
500 gr ground beef
1 tsp chili powder
1 tsp ground cumin
1 tsp cinnamon
4tbsp fresh coriander, finely chopped
2 tbsp balsamic vinegar
olive oil
freshly grinded black pepper

Chop up all the veggies into small pieces. Take a big pan and heat the olive oil and fry all the vegetables. Stir well. Add cinnamon, cumin and chilipowder. Let it simmer for a few minutes and stir every minute. When the vegetables are soft and slightly caramelised (appr. seven minutes), add the kidneybeans, chickpeas and diced tomatoes.
Add the ground beef to the vegetables and stir until the meat is loose.
Find the rest of the recipe on Simone's Kitchen
Roasted Strawberry & Thyme Tart
recipe and photo from Two Loves Studio
tastes best with Dark Lager, Dunkel, Schwarzbier
 Ingredients

Recipe

For tart base:

250g plain flour
125g butter, chopped and slightly softened
1 egg, room temperature
1 tsp vanilla sugar
1/2 teaspoon fine salt
40ml cold water

For the filling:

For the strawberry syrup:

250g fresh strawberries, chopped
1/4 cup maple syrup
2-4 tablespoons brown sugar

On a clean and dry work surface, (preferably a marble surface if you have one), heap the flour and make a well with your hands. Place the chopped butter, egg, sugar and salt into the well. With clean hands, gently mix the ingredients together, creaming the butter as you go.

Once combined, gently little by little draw in the flour to incorporate with the wet mixture and work the dough with your finger tips until a grainy texture forms. Add the cold water, little by little until the dough begins to hold together. (Adding the water little by little will ensure that the dough doesn't become too wet. If it does, add a little more flour).

Using the palm of your hand, push the dough away from you a couple of time until it is smooth. Make the pastry into a disk, wrap in plastic and leave to rest in the fridge for 20 mins.

On a lightly floured surface, roll out the pastry to a round, 3mm thick, 30cm in diameter. In a 24cm diameter, 3mm deep loose bottomed tart tin, place the pastry carefully into the tin and press it into the sides gently with your fingers. Trim the excess.Rest in the fridge for 20 minutes.

Preheat the oven to 200 C.

Thinly slice the strawberries lengthways and place in a bowl. Squeeze over the lemon juice. Set aside.

In a bowl, mix the cornflour and brown sugar until combined.

Find the rest of the recipe on Two Loves Studio
Back to all posts