How to use your smart garden to relax and unwind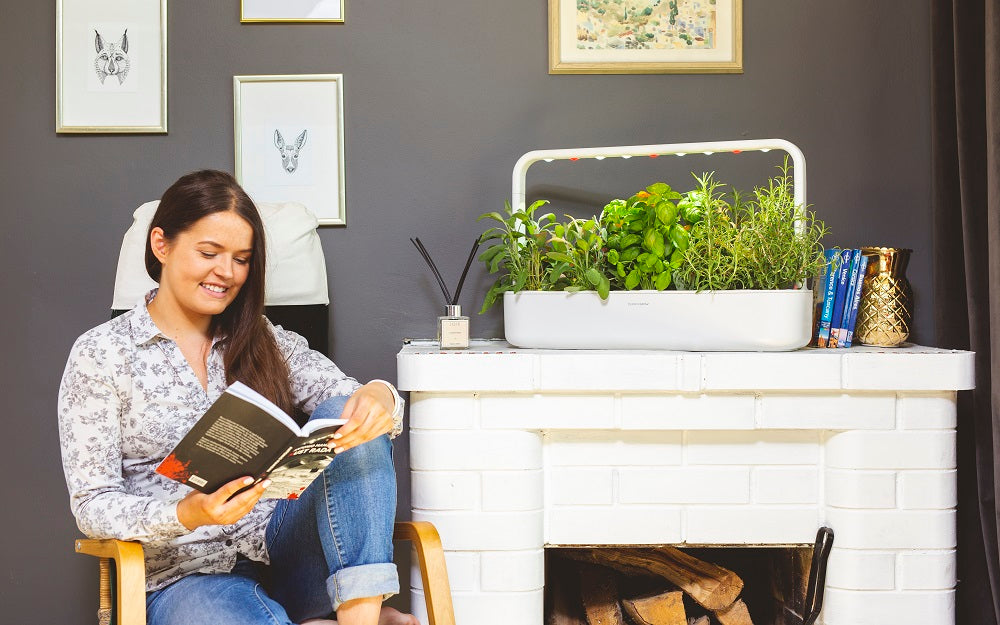 Gardening can be a relaxing, meditative activity. It lets you grow plants that'll enrich your daily life and also gives you an opportunity to bond with nature in a fun, hands-on way.
If you want to take your relaxation levels even further, add indoor gardens into the mix! Here are some easy ways to use your Click and Grow smart garden for relaxation.
Grow refreshing herbs for tea
Did you know you can grow a variety of tea herbs in your smart garden? These plants are great for relaxation, as they have calming properties that can help you unwind after a long day. Herbal tea has been used for centuries as a natural remedy for stress and anxiety. Many people believe it can help relieve headaches and sore muscles, so it's perfect for those times when you fancy something more gentle and soothing than a cup of coffee. 
Here are some examples of Click and Grow herbs you can grow for tea:
Apple Mint - Boasts a fruity aroma with a hint of apple.
Calendula - Sweet fragrance with a slightly bitter taste. Perfect with a drop of honey.
Cinnamon Basil - Known for its sweet, spice filled scent and genuine cinnamon flavor.
Peppermint - A true classic. Minty and mildly sweet, perfect for any time of day.
Holy basil - A sacred Indian herb, commonly used to reduce stress and anxiety.
How to brew the perfect herbal tea
There are multiple ways to brew a delicious tea. Here's a tried a true method:
Step 1: Boil water to 212 F
Step 2: While the water's boiling, measure 1 tablespoon of herbs or flowers per 8-10 ounces of water (approximately one cup). We recommend crushing the herbs to help release the oils and compounds which are responsible for providing nutrients.
Step 3: Steep the herbs for 10 minutes to unlock the best flavor. Cover the tea while steeping.
Step 4: Serve and enjoy.
Be sure to check out our plant pod mixes and bundles for more tea-themed offerings!
Grow plants for aromatherapy
With a smart garden, it's super easy to grow plants that have a relaxing effect on the body, such as lavender and mint. These plants are easy to grow, and they make great additions to any garden. Basil, rosemary and sage are also good choices for your smart garden because they provide tasty herbs that you can use in cooking in addition to their aromatic qualities. 
When it comes to aromatherapy, one of the best ways to use your herbs is to create a smudge stick with them.
How to create a smudge stick for incense
All you need is your herbs, some string and a pair of scissors / herb shears.
Trim herbs to the size you want.

To tie up your herb bundle, attach a long piece of twine to the bottom and wrap it around as tightly as you can until you reach the top.

When you reach the top, tie your twine securely and trim off the excess.

Let your smudge stick dry for at least two weeks.

To burn incense, light your smudge stick with a lighter or match.
Light your reading corner
The smart garden is a great way to add ambient light to your reading corner. Place it on a shelf, fireplace or table and enjoy the relaxing glow of its LEDs as they illuminate the space around you. 
You can also set it up on your office desk and use it as an ambient light source for late night work sessions. Use it in your living room as an accent lamp that adds some extra lighting to your home. For a more personal touch, move your smart garden to your bedroom to provide soft illumination while you read in bed. With the many decorative plants available to grow in your smart garden, the possibilities for creating your own sanctuary are endless.
Conclusion
It can be hard to relax in a busy life filled with work and responsibilities. Many people struggle to find time for themselves, and easy ways to relax. With your smart garden, you can grow plants that help you de-stress naturally in a beautiful product that blends into your home.
So, what are you waiting for? It's time to enjoy the soothing scents and colors of your Click and Grow smart garden!
Back to all posts