Experience The Benefits Of An Indoor Garden With Our New Subscription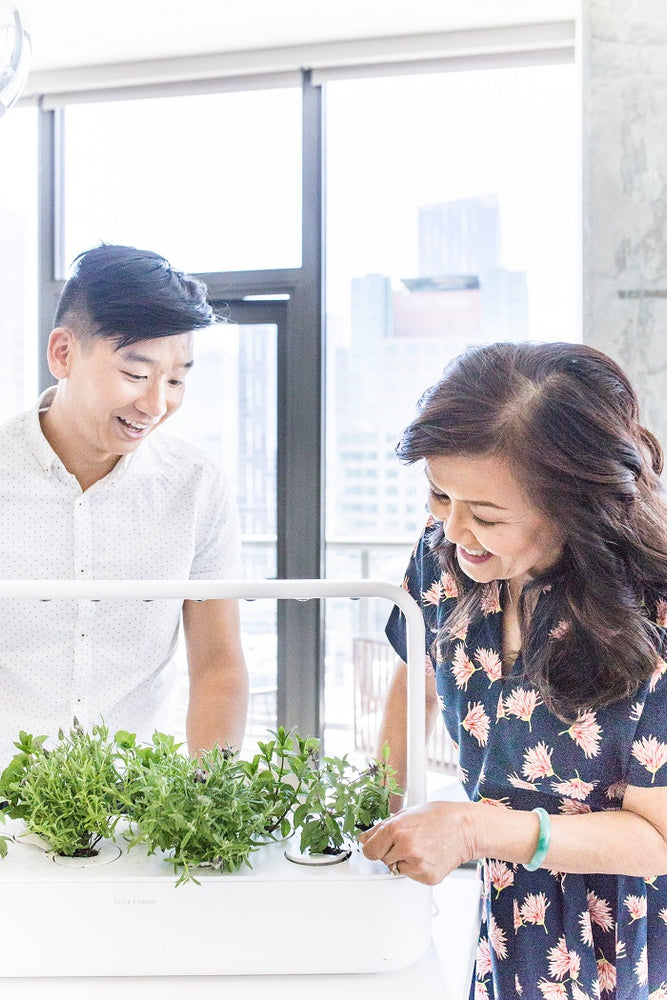 Click & Grow's new subscription is tailor made for you.
You'll receive an incredible Smart Garden 9 along with your favorite plants throughout the year at an exclusive lower price.
New to the concept of Smart Gardens? Here's everything you need to know:
What is a Smart Garden?
A Smart Garden is an intricately designed indoor garden which allows you to grow fresh food and flowers all year round from the comfort of your home, office or school.
What's the benefit of growing in a Smart Garden compared to growing outdoors?
Incredible convenience & ease of use
With more and more people living in cities and bustling urban areas, it can be difficult to find outdoor land to grow plants.
With a Smart Garden, however, you can grow plants in virtually any indoor space. The Smart Garden automatically waters your plants and provides them with an optimal amount of light so they can thrive. Once the garden is set up and plugged in, you can relax knowing it'll care for your plants for you.
Revolutionary Smart Soil
Click & Grow utilizes revolutionary Smart Soil, inspired by NASA's technology. Smart Soil is a step up from ordinary potting soil and is exclusive to Click & Grow. It releases nutrients in sync with the plant's life cycle, keeps soil pH balanced, and employs tiny oxygen pockets to guarantee plants get enough nutrients and breathing room even when the soil is wet.
What can you use a Smart Garden for?
A Smart Garden can be used for multiple purposes:
Nutrition & cooking
Grow 100% organic food to boost your health and vitality. Enjoy plants packed with the vitamins, nutrients and antioxidants your body craves.
Stress relief
Nature is a great healer. Growing plants indoors can help improve your well-being in multiple ways, leading to calmer, more productive days.
Decoration
A Smart Garden never looks out of place. Its simple yet beautiful design compliments any room. Flowers growing in a Smart Garden are a real eye-catcher.
What plants can you grow in a Smart Garden?
Click & Grow has over 50 incredible plants that you can grow in a Smart Garden, from herbs to fruiting plants to flowers. Favorites include basil, lavender, mini-tomato and cornflower among many others.
You can also use take advantage of Click & Grow's Experimental Pod to grow your own seeds. The possibilities are endless.
Why should you take advantage of a plant subscription?
With a plant subscription, you'll get to enjoy your Smart Garden to the fullest. Owning a Smart Garden is a positive step towards better health, well-being and more beautiful surroundings.
Along with your incredible Smart Garden 9, you'll receive:
5 x 9-packs of plants of your choice
Personal customer support manager & 1 year warranty
You'll also be saving over €100 compared to if you would buy each item individually.
For full details on how the subscription works and how to subscribe, click HERE
.
Back to all posts