5 Unique Indoor Plants Only Click and Grow Will Sell You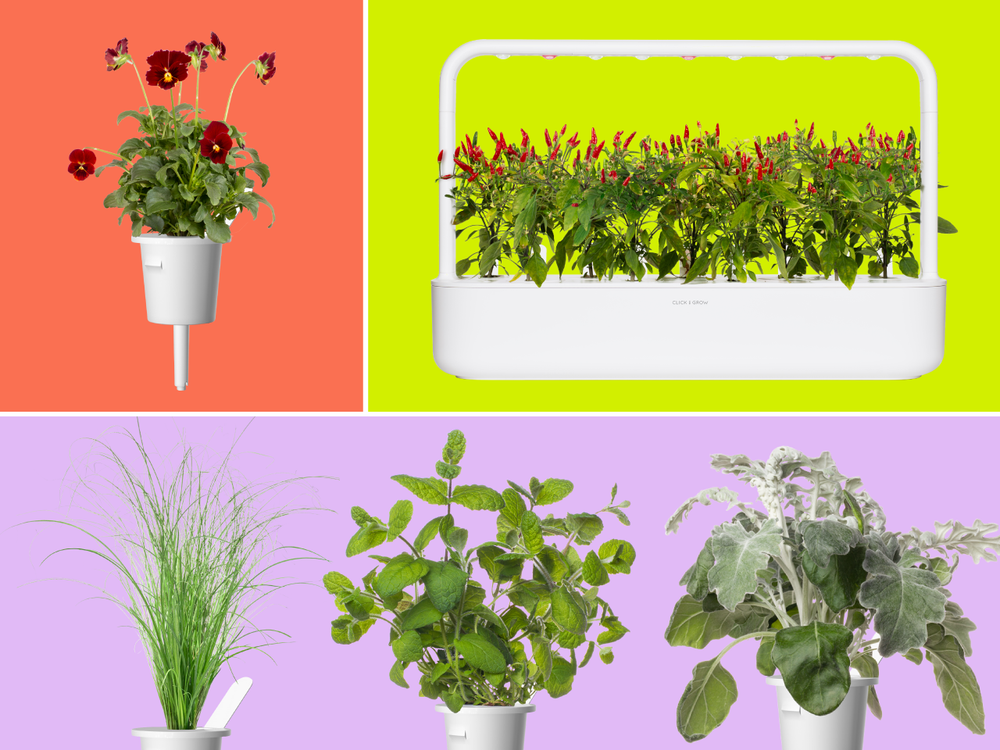 Gardening is all about having fun and experimenting.
We know how exciting it is to see new, exotic plants growing in your home. That's why we offer more varieties than our competitors, so you can find something that truly inspires you!
Here are five exclusive Click and Grow plants that'll brighten your home and make you smile:
1. Piri Piri
Did you know that 'piri piri' means 'pepper' in Swahili? This one measures 100.000 on the Scoville scale and is our spiciest and most prolific chili - certainly not for the faint of heart! Its clean, bright flavor makes it one of our most exciting plants to grow at home and chat about with your guests. Its herbal notes and slightly citrusy flavor help to balance out rich ingredients in any recipe. 
Naturally rich in vitamins B1, B2 and B3

Complements poultry or fatty fish

A favorite among spicy food lovers
2. Red Pansy
Pansies are ornamental flowers that have been inspiring artists for centuries. In 1926, Georgia O'Keeffe painted a stunning Black Pansy. You'll find black pansy in our collection as well as this vibrant red variety. Grow it in your smart garden to add a splash of fresh color to your home.
One of our most eye-catching flowers with a mild, sweet scent

Super easy to grow

Can also be used as a garnish for cocktails
3. Ornamental Grass
When Tom Jones sang about the 'green green grass of home', you can imagine it looked something like this. With its peaceful wavy foliage, it's no surprise ornamental grass is used in both landscaping and interiorscaping. It's made from the hairy sedge species and is perfect for adding a slightly untamed, natural feel to your living space.
One of the easiest plants to grow. No care required

Slow-growing but long-lasting

Perfect for rooms that need a natural touch
4. Dusty Miller
Dusty Miller is a leafy decorative plant known for its soft, wool-like texture. Growing it is super easy, even for beginners. Its silvery-gray foliage adds a calming effect to your living space and it's comforting to touch. As with Ornamental Grass, Dusty Miller is widely used in landscaping and interiorscaping due to its charming appearance and low care requirements.
Unique, calming gray foliage

Super easy to care for

Soft to touch
5. Apple Mint
Apple Mint is aromatic and full of flavor. It's best in uncooked dishes, but it's also great for cocktails, mocktails and tea. Use whole or chopped leaves in popsicles, sorbets and ice cubes. You can also roughly chop Apple Mint and add it to chutney, dressings, jelly or brine when pickling.
Super versatile in the kitchen

Can be used to make a refreshing tea

Great for drying and saving for later
Doesn't it feel good knowing the plants you've selected are unique and unlike any others in your friends' and family's homes? By growing any of the above, you'll be an indoor gardening pioneer without even realizing it! For even more choice, check out our full catalog here.
Looking to get into indoor gardening?
Use this code for 10% off your first smart garden*
* Offer applies to: Smart Garden 3, Smart Garden 9, Smart Garden 9 PRO, Smart Garden 27. Valid until 20.09.23. Cannot be combined with other promotions or offers.
Back to all posts